Le bois, c'est un problème...
GENERALITES
Le concepteur donne des spécifications extrêmement claires qu'il faut suivre. La conception de la Souricette est dimensionnée non par les limites d'efforts à la rupture, mais par les limites d'efforts de déformation admissibles. La machine n'est donc pas concue pour être rigide, mais pour se déformer dans des limites acceptables pendant le vol (C'est d'ailleurs pour ca que les commandes de vol utilisent des barres en aluminium et non des câbles). On comprend que le bois a toute son importance.
La liasse souligne très clairement le caractère VITAL de certaines pièces qui doivent impérativement être en Spruce, ou en PIn d'Oregon, ou en Sapin. Des tests de résistance à la traction sont prévus et spécifiés (5kg/mm²), de même que des tests à la cassure, qui ne doit pas être nette mais fibreuse. Pour le contre plaqué il faut de la qualité "okoumé-aviation", et "peuplier-aviation". La documentation est impeccable, de ce côté là.
Bien sûr, pour certaines pièces moins sollicitées mécaniquement, et après validation du concepteur, on peut utiliser des bois ou des contre plaqués moins exigeants, mais le problème, c'est que les pièces vitales ne doivent absolument pas souffir le moindre compromis.
Donc, il faut trouver du Pin d'Oregon, car le Spruce est à peu près impossible à dénicher, et le Sapin d'excellente qualité également. Pour ma part, j'ai étudié la question à partir de la "Documentation de l'Ingenieur" traitant du bois et des collages. C'est une ressource scientifique tout à fait crédible. J'y ai appris qu'il fallait plutôt des bois débités "sur quartiers" et non "sur dosse" du point de vue des déformations, et que "l'aubier" était proscrit (c'est le bois de la couche externe du tronc).
En France, je n'ai trouvé qu'un seul établissement qui puisse me fournir des bastaings de qualité adéquate: les établissements "Atelier de Guyenne" à Bordeaux. C'est une société qui travaille principalement pour les charpentiers de marine, et qui importe et distribue des bois précieux variés. Ils sont extrêmement compétents, ont parfaitement compris ce qu'il me fallait, et ont pris quatre à cinq mois pour sélectionner les plus beaux bastaings qui leur arrivaient (moyennant un acompte de 30%). Leurs prix ne sont pas donnés, mais on profite d'une vraie compétence et d'un vrai service. Bref, des gens de confiance.
Le problème, c'est qu'ils n'expédient rien par eux-mêmes qui fasse plus de 3m de long...Il m'a fallu dénicher un transporteur, car louer une camionette (sur deux jours, l'hotel, les bastaings exposés à la pluie...) ca ne tenait pas debout. Là aussi, ce n'est pas simple, car trouver un transporteur qui accepte de travailler, qui soit intéressé par votre fret, par le trajet, c'est un challenge. FInalement c'est la Société "PKM Logistique", à Noyon, qui m'a sorti d'affaire, pour 300€. Ce n'est pas donné non plus, mais le transport est de qualité, et cela reste moins cher que la manip "location de camionette"...
Craignant de ne pas être à la hauteur pour le débit et le rabotage, compte tenu des grandes longueurs (5m), j'ai trouvé un menuisier qui va me faire ca impeccable pour pas trop cher (Société "Clermont Bois"). Le camion livre directement chez eux.
Il reste le contre plaqué. Les entreprises qui produisent les qualités "okoumé-aviation" ne sont pas légion. Il en reste au moins une, les établissements "Laboisserolle". Il y a des contraintes, car ils ne lancent la fabrication qu'à certaines époques de l'année, et il comme ils sont extrêmement exigeants sur leurs produits, ils pratiquent un temps de séchage assez long. Ils livrent directement. Ils ne sont pas bon marché non plus...mais ils fournissent!
Donc, il m'a fallu quasiment six mois pour regrouper les bois nécessaires à la construction de la Souricette...
Notons aussi qu'il y a des incidences au niveau de l'atelier, car il faut pouvoir stocker ce bois correctement, à plat, sans qu'il se déforme, et d'une façon qui permettent une manipulation aisée pour la mise en oeuvre (5m de long!!!).
DEBIT / RABOTAGE
Comme on l'a vu, le bois de qualité est une denrée rare. Il est hors de question d'avoir un problème lors de la préparation du bois, car en ce cas, on repart pour un tour "commande-attente-transport-€"...J'ai décidé d'investir dans une prestation externe, effectuée par un professionnel local, pour débiter mon bois et raboter les pièces pour obtenir les baguettes voulues dans lesquelles je taillerai les pièces. Clermont Bois m'a proposé, pour une centaine d'euros:
- de réceptionner mon bois et de le stocker en attendant de le débiter;
- de me le débiter;
- de le raboter avec une garantie de précision de 0,1mm.
Réaliser les deux derniers points m'a semblé hors de portée de quelqu'un équipé d'une scie circulaire portative (même grosse: 1800W). Au passage, j'ai bénéficié de leur avis à propos du bois fourni par Atelier de Guyenne. Selon Clermont Bois, les pièces étaient excellentes, et avaient visiblement bénéficié d'un séchage adéquat. Nous avons regardé ensemble quels étaient les meilleurs bastaings dans lesquels tailler les pièces critiques.
De mon côté, j'ai repris la liasse de Michel Barry et j'ai pointé TOUTES les pièces en bois massif. Chaque pièce a été numérotée, et affectée à une baquette (car chaque pièce débitée par Clermont Bois est également référencée). Ceci m'a permi de vérifier que 5 bastaings de 5x0.1x0.05m étaient suffisants pour construire la souricette (il m'en reste environ la moitié d'un à titre de réserve). EN REVANCHE, IL APPARAIT QUE POUR LES PIECES DE GRANDES LONGUEURS (4m et plus) IL N'Y A PAS DE "RAB". HORS DE QUESTION DE RATER UNE SEMELLE DE LONGERON, UNE BAGUETTE HAUTE OU BASSE DE FUSELAGE...).
Voici les cinq bastaings lors de l'examen initial.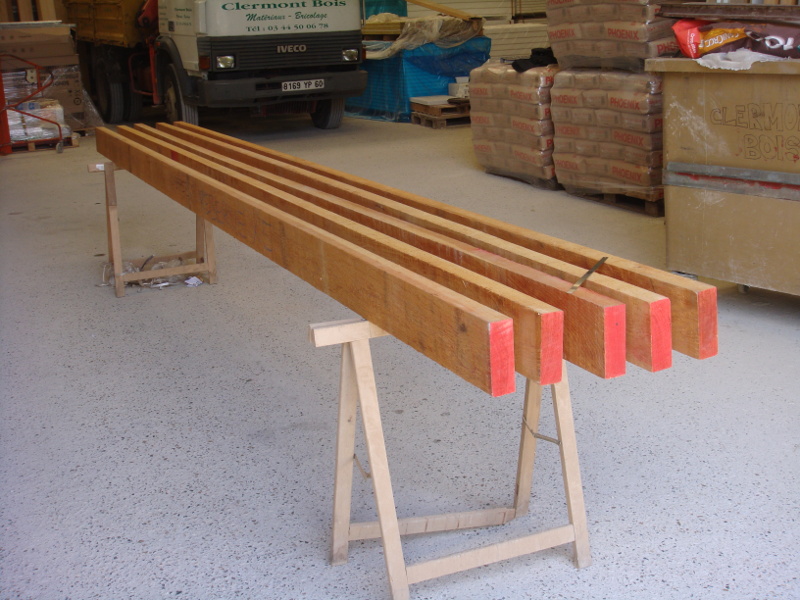 LA SEANCE DE DEBIT / RABOTAGE
Contrairement à ce à quoi je m'attendais, ce fut compliqué. Le bastaing numéroté n°1, qui était le plus droit de tous, et que j'avais prévu pour tailler mes semelles de longerons s'est cintré tout seul au premier trait de scie. Les pièces que nous avons taillé dedans étaient à mon avis inutilisables en grande longueur.
Donc, il peut y avoir des mauvaises surprises à ce stade.
Inutile de dire que le plan de débit et le tableau des pièces ont été extrêmement utiles. A titre indicatif, ce document est ici pour le débit, et ici pour la liste de
pièces bois massif. Ce sont ceux que j'ai utilisé. J'espère ne pas avoir fait d'erreurs.
Le bon côté des choses, c'est que j'avais planifié sur des bastaings de 100mm x 50mm de section et que ceux qui m'on été livrés étaient plus larges (environ 150 mm). Ceci m'a permi de refaire les pièces de grandes longueurs prévues dans le bastaing n°1. Aucun autre bastaing ne s'est cintré "spontanément". Tout est resté parfaitement droit. Et il me reste une solide réserve.
Inutile de dire que je ne regrette pas d'avoir investi dans cette prestation. Le sciage, effectué sur une grosse machine, s'est vraiment bien déroulé. Tableau en main, j'annonçais les cotes au menuisier, je supportais les pièces au sortir de la machine avant un petit contrôle au réglet aux extrémités et au milieu. Quelques écarts minimes, mais pas de problèmes. Deux petites poches de résines sont à signaler, sans gravité (pas dans le bastaing dans lequel j'ai taillé les semelles de longeron). Une semelle s'est fendue à une extrémité et a révélé un petit noeud en son milieu. Nous l'avons refaite dans un morceau de reste et dans la foulée, nous en avons fait une supplémentaire (au cas où...).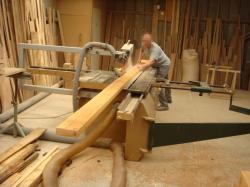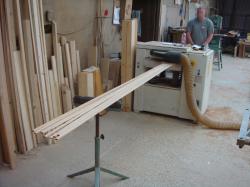 Le délignage Rabotage /mise aux cotes
Le rabotage a été effectué sur une machine professionnelle, ultra précise (le menuisier contrôlait en sortie au pied à coulisse...). J'avais demandé des cotes au dixième de mmm. J'ai eu des cotes au dixième de mm. Là encore, j'en ai profité pour me faire préparer quelques baguettes supplémentaires. Sur le total, je n'en ai que deux de tordues (issues du bastaing n°1). Le menuisier m'a indiqué que le résultat était du aux marges dont il a disposé pour raboter (j'avais prévu plus de 3 mm d'excès à raboter).
A l'issue de la séance de travail, qui a duré 3h30 (à deux), tout a été emballé dans le plastique qu'avait utilisé le fournisseur pour son envoi et que nous avions gardé. C'est prêt à être embarqué et stocké dans mon atelier.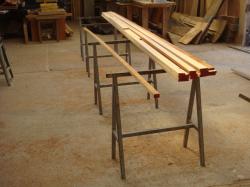 Le lot de bois massif complet (il reste en plus une réserve d'environ 1/3)
En gros trois leçons:
1- Prévoir une réserve (20%), car il peut y avoir des mauvaises surprises ;
2- Bien préparer son plan de débit et sa liste de pièces affectées par baguettes;
3- Ne pas regretter de "faire des copeaux" pour disposer d'une bonne marge avant rabotage.
Le bois, c'est un problème...
-----------------------------------
The wood issue is problematic...
The designer provides specifications which are extremely precise and clear. Design of Souricette is not dimensioned by the limits of efforts from rupture but from deformation within calculated limits. The plane will not be rigid, but will face slight deformations during the flight (consequently, the pitch and roll commands will use rigid aluminium bars, not cables). So one understands that the wood will be critical.
The blueprint underline vividly the VITAL aspect of some parts which must be produced from Spruce or Douglas Pine). FOr example, the wood must withstand a traction effort up to 5kg/mm², and broking a wood rod, it must be "progressive and fibrous" unstead of "neat". For critical parts (longerons, spars...) the multiply must comply with aviation standard. I studied this issue from a professional paper (Engineer reference book) adressing the wood and the glues. It is a scientific ressource fully credible. I learned that particular ways to cut the wood are preferable than others, and that wood from external part of the trunk is not adequate.
Obviously, if asked, the designer should allow the use of woods or plywoods which are more "standard" for certain parts only, those which are not excessively exposed to mechanical efforts. But there is NO room for trade-off or compromise regarding other parts.
In France, I found only one company able to provide wood pieces made of Douglas PIne having adequate characteristics: "Atelier de Guyenne" Co, in Bordeaux. It is a company involved in boat production, used to import and sell many sort of precious wood. They are highly skilled, they perfectly understood my need, and selection process of appropriate wood pieces lasted more than four months (I paid 30% in advance). They are expensive, but I enjoyed a real professionnalism and specialized skills. So, you can trust them.
The snag was the fact that they do not send anything longer than three meters...I had to hunt for a transporter, due to the high price of renting a van plus all the expense, regarding the risk to have problems with the wood exposed outside, likely exceeding the total length of the vehicle...Finding a company ready to make the job, being interested in the traject, the volume and mass of the cargo...it was an other challenge. At last, "PLM logistique" Co was able to solve my problem in a clean, rapid and reliable way for 300€, a significant amount, but lower than the operation based on vehicle renting.
Concerned by sawing and planing the pieces of wood, regarding the length (5m...) I found a carpenter who will make the job perfectly for an acceptable price. The truck will deliver the pieces of Douglas pine directly in his workshop.
The last problem of that nature remaining was the plywood, which must be made of Okoumé and offer "aviation grade" quality. There is not a lot of company which produced that. One of the last one is "Laboisserolle". There is constraints, due to the production which takes place only at certain period of the year and the strong need to allow the plywood to dry long enough. (they are extremely demanding regarding the quality). They are expensive too...but they have it!
So, I needed roughly six months for gathering all the required wood to build my Souricette...
It 's worth to quote that all these issue has consequences on my workshop, because I will have to store all the wod properly, without any kind of deformations, and in a way allowing an easy handling to machine the pieces (5m long...)
PREPARATION / PLANNING
As underlined before, wood of high quality is rare. There is no way for ptoblems during preparation, because in such a situation, we start again for the trip "order-waiting-transport-€/$... I decided to rely on a professional local company to preparation and planning of the wood in order to obtain needed rod with correct dimensions. "Clermont Bois" will make the job, for approximately 100€:
- reception and storage the wood;
- cutting the pieces in rough parts;
- planning them to appropriate dimension with precision of 0,1mm.
Achieve the two last things with a portable electric rotative saw appeared risky, even with a strong machine (1800w). On the other hand, I enjoyed the experience of Clermont Bois to assess the quality of the wood: according their view, the wood was excellent and presented a drying time of several years. We selected together the right pieces for the critical parts.
I reviewed the blueprint entirely and pointed ALL the individual pieces in plain wood. Each of them was referenced and related to a rod. In doing so, I checked that five pieces od 5x0.1x0.05m were enough to produce a Souricette (half of a piece remains). HOWEVER, IT APPEARS THAT THERE IS NO POSSIBILITY OF SPARE FOR PIECES LONGER THAT 4 METERS. iIT IS FORBIDDEN TO FAIL DURING USE OF LONGERON PARTS, OR MAIN RODS ASSOCIATED WITH FUSELAGE.
Here are the pieces conditionned by "Bois de Guyenne" for transport (smart!)
Here and here, are the pictures of the ash tree piece dedicated to construction of the wedge inserted in the heart of the wing-longeron.
Here are the five pieces unpacked, before initial inspection.
WORKING SESSION OF CUTTING AND PLANNING
Things were more difficult than my expectations. The raw piece n°1, which presented the highest straightness, planned to produce the soles of the beams for the wings, twisted itself after the very first cut, resulting in pieces unacceptable for long lengths (>2m).
SO, bad surprises should occur during this preliminary step.
No need to say that the preparatory sketch for cutting and list of pieces were extremely useful. You can find them here and here for the cutting and here for the list of pieces made from Douglas (
pièces bois). It is the documents I prepared by myself for my project. I hope I did not make a mistake.
The favorable aspect relies in the fact that I based my planification on pieces with a section of 100x50mm. The received pieces were a significantly larger (roughly 150 mm x 50 mm), allowing me to recut some pieces of high length (>4.25m) initially planned from the raw pieces n°1. Luckily, no other raw pieces twisted. Everything was perfectly straight and rather large spare pieces remain.
I confirm my satisfaction to have asked a professionnal to cut and plan the stuffs. The cutting was performed with a large saw. I indicated the precise sizes of the pieces to the carpenter for machining correctly, and I held the pieces at the exit side of the saw, followed with a small check with a decimetre at each ends and in the middle. Minors and acceptable differences, but everythings was acceptable. Two small cavities full of resin were detected (not in the piece from wich I cut the sole for the beams). One sole splitted at one end, making us obliged to recut an other one in a spare piece (with a further one, in case of potential future problem).
Planning was performed on a professional machine tool, extremely precise (the carpenter checked with a slide caliper...). I asked a precision of one tenth of a militer. I've got it. I took the opportunity to ask the carpenter to produce some further sticks. From the whole package, only two are not very nice (from the raw piece n°1). THe carpenter told me that the excellent result was fairly related to the excess I allowed for the sizes of the pieces (I allowed a minimum of 3 mm in excess for planning).
The session lasted 3h30 (two person working), all pieces were packed in the protective plastic used by the provider for the package (I kept it). Today, it is ready to be transported into my workshop.
All in all, three lessons learned:
1- It is careful to allow a spare quantity of wood (20%), in case of bad surprise.
2- It is enjoyable to prepare the cutting-map and the full list of pieces, each of them related to a given stick;
3- Do not hesitate to allow "chips" in order to give comfortable margin to the operator in charge of planning.
PICTURES: CUTTING RAW PIECE / PLANNING (1,2) / THE PACKAGE OF PIECES AT THE END OF THE WORK / SPARE (See, on the right side, two twisted pieces from the raw pieces n°1).
Wood issue is not so simple...