Les tests de centrage, de pesée et les essais en vol sont prévus pour 2014.
En revanche, des tests sont prévus sur les matériaux, notamment le bois massif, pour s'assurer que l'on respecte les spécifications du constructeur.
Dans ce cadre, un petit système simple constitué d'un pilier en tubes d'acier soudés, d'un cadre mobile mu par un cric hydraulique, d'une platine porte-éprouvette et d'un dynamomètre digital a été conçu pour effectuer des mesures simplifiées en traction (axe longitudinal). Par ailleurs, une seconde platine porte-éprouvette  est en cours de conception pour effectuer des tests de collage à l'arrachement (axe perpandiculaire au plan de collage), les tests en cisaillement étant effectués en traction. Les bilans des tests effectués durant la construction seront présentés ici.
De même, les relevés de températures effectués au début et à la fin des séances de travail comportant des collages seront également regroupés ici.
Enfin, tous les tests et mesures qui interviendront nécessairement durant les phases finales de la construction (motorisation, instrumentation) seront aussi présentés ici.
L'objectif est de constituer une sorte de "dossier qualité" qui présente un double intérêt:
- apporter à d'autres constructeurs le retour de mes expériences, heureuses ou malheureuses...
- documenter en profondeur la construction.
------------------------------------------------------------------------
18 novembre 2011
Test de collage Contre plaqué (CTP) - Pin d'Oregon (PO)
On prévoit deux tests différents: le test à l'arrachement  et le test en cisaillement.
Le test à l'arrachement consiste à appliquer des forces transversales au plan de collage. Pour ce faire, on réalise une éprouvette constituée de deux pièces de bois "en pince à linge" collées sur un intercalaire en CTP. On Appliquera ensuite la force transverse en insérant un barreau cylindrique entre les branches de la "pince à linge" et on frappera dessus au marteau jusqu'à la rupture. C'est donc un test destructif dont le résultat s'exprime en "tout ou rien":
- soit les pièces se séparent au niveau du joint de colle. En ce cas, le collage n'est pas validé.
- soit les pièces se séparent au niveau de la matière, par clivage du bois. La cohésion du collage a donc été plus forte que la cohésion du bois. En ce cas, le collage est validé.
On note que la structure des pièces conduit à l'écartement du joint un peu comme on ouvre un livre. La distance parcourue par les zones élémentaires du joint varie, de minimale  dans la zone la plus éloignée du barreau, à maximale dans celle qui est la plus proche. Les conditions d'application de l'épreuve ne sont donc pas homogènes.
Un autre point à signaler concerne l'état de surface des faces inclinées des "pinces à linge". Il est essentiel que leur état soit parfait, au moyen d'un poncage soigneux. En effet, tout défaut, petite fente, éclat ou meutrissure, exposé à la force d'arrachement lors du choc appliqué au barreau, constituerait un point faible susceptible de favoriser l'amorcage de la rupture à un seuil inférieur à celui en dessous duquel le joint de colle ne serait pas validé. Celà fausserait donc la mesure.
Enfin, il faut noter que la structure du bois est anisotropique, c'est à dire qu'elle ne présente pas de caractère homogène. Grossièrement, on peut assimiler le bois à une sorte de mille feuilles, alternant des couches dures et fibreuses solides avec des couches un peu plus déformables et plus tendres. Le bois est un composite présentant un sens d'orientation principal de ses fibres. L'orientation de ces couches au niveau du plan de collage est un aspect fondamental. Sur le petit dessin, on peut noter, au pied de l'éprouvette, des vues insérées en coupe des tasseaux collés sur le CTP.
- A droite, on comprend que la surface du tasseau collée sur le CTP est constituée de l'alternance des couches dures et tendres. Si on fait l'hypothèse que le joint de colle est réussi, lors de l'arrachement, le bois va céder mais probablement par délignage  des couches dures. C'est en effet la cohésion transverse de ces couches ligneuses qui est sollicitée.
- A gauche, le cas est tout à fait différent. Les couches qui constituent le tasseau s'interfacent "à plat" sur le CTP par l'intermédiaire du joint de colle. Deux aspects principaux sont alors à considérer: Le premier, c'est que soit c'est une partie tendre qui est au contact et qui verra la colle (nous nous plaçons dans le cas d'un tasseau parfaitement de droit fil, ce dont la liasse nous demande de nous approcher au maximum), soit c'est une partie dure. Il est probable que les caractéristiques de pénétration de la colle dans ces deux types de matière soient différentes, mais considérons que la colle assure la performance demandée quelle que soit la matière. Le second point c'est que lors de l'arrachement, le bois va céder mais probablement par séparation entre les différentes couches du bois. C'est en effet la cohésion entre les couches ligneuses et les couches tendres qui est sollicitée.
On ne teste donc pas tout à fait la même chose, car on n'oppose pas la même caractéristique du bois à l'adhérence du joint de colle.
Je n'en tire pas de conclusion définitive, et encore moins la matière à une quelconque décision d'orientation de mes baguettes pour la construction. Simplement, il faut en avoir conscience.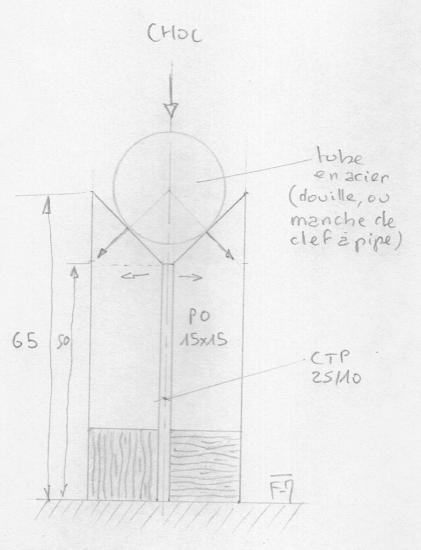 Le test en cisaillement correspond à l'application d'un effort dans le plan du joint de colle. C'est le test des conditions dans lesquelles le joint présente une résistance maximale. C'est pour cette raison qu'on s'efforce généralement de faire travailler "en cisaillement" les joints d'une structure collée.
Ce test s'exécute au moyen de'une buchette en PO collée sur une lame de CTP. On exerce avec le banc décrit plus haut, une traction dans l'axe longitudinal passant par le plan du joint (en placant une cale sur le côté libre du CTP lors de la mise en pince sur la platine d'expérimentation). On lit l'effort à la rupture et on en déduit la performance de limite de résistance en kg/mm² compte tenu de la surface du joint en essai. Ce test permet également de réaliser des essais de résilience en appliquant un nombre convenu de tests en traction, plus ou moins proches de la limite identifiée par le test à la rupture afin de rechercher une valeur de rupture inférieure intervenant en cas d'efforts répétés (pas indispensable ici).
--------------------------------------------------
1 janvier 2012 Test en traction
Avant de coller la baguette de référence du dos du fuselage, qui joue un rôle structural non négligeable, il faut  valider le bois employé au moyen d'un test en traction. (Le bois est splendide. Un essai de rupture fait sur unechute lors du débit montre une cassure fibreuse conforme aux spécifications du concepteur).
On réalise une petite éprouvette de 5mm d'épaisseur. Deux découpes circulaires latérales effectuées à la scie à guichet définissent une zone de faiblesse calibrée. On mesure sa section avec précision en utilisant un pied à coulisse. On obtient 5x5=25mm².  Les spécifications prévoient 5kg de résistance au mm². L'éprouvette doit donc tenir une traction de 125 kg. On monte l'éprouvette sur la platine que l'on installe sur le banc.
La mise en traction est appliquée, et portée jusqu'à 192 kg sans rupture ni bruit suspect au niveau de l'échantillon. Le dynamomètre est photographié. Le bois est donc validé, ce que l'on signale par une marque à l'encre sur la pièce elle même. L'éprouvette est anotée (date, n° de liasse, n° de pièce dans la machine, section mesurée, traction appliquée, initiales du testeur). Tous ces éléments seront reportés dans le livre de construction.
Voici une vue générale du test, une vue de la platine supportant l'éprouvette, et une vue du marquage de la baguette validée.
--------------------------------------------------------------------------------
7 janvier 2012 - Résultat de test à l'arrachement sur éprouvette de collage PO sur CTP
Test ce jour d'une éprouvette constituée d'un petit morceau de 15x15 PO collé à la Résorcine Formol (RF dans le reste du site) sur un CTP. J'utilise la colle AERODUX-185
doc-aerodux-185.pdf (voir lien Fournisseurs).
Paramètres:
dosage: 5 part de résine, 1 part de durcisseur (en poids)
température lors de la préparation, jusqu'à la mise sous presse: 15°C.
température durant la mise sous presse et le séchage : 10-15°C
durée de mise sous presse: 72h (serre-joint plastique à pince)
durée de séchage avant test destructif: 7 jours pleins
Méthode de test: barreau cylindrique métallique en travers, frappé au marteau.
Résultat: satisfaisant: l'éprouvette éclate au sein du CTP. Plan de collage intact.
Conclusions: Les éléments donnés par Daniel se vérifient: serrage supérieur à 48h et séchage de l'ordre de la semaine sont de mise. Mais que se serait-il passé si l'essai avait été un échec (rupture dans le plan de collage)? J'aurais du recommencer, ce qui aurait repoussé ma validation de plus d'une semaine.Quel temps perdu! Donc,il faut faire une éprouvette constituée d'une petite plaque de CTP sur laquelle on colle trois morceaux de tasseaux. Ceci permet un test à 1 semaine, 1 test à 6 semaines, et mettons, 1 test à 1 an. Beaucoup plus souple et complet!
On retient également qu'on peut coller à la RF à 15°C sans problèmes.
Cependant, pour bénéficier d'une meilleure marge de séurité, je vais appliquer la méthode préconisée par Daniel, consistant à réaliser une cage isolante posée au dessus du collage,  cage dans laquelle on souffle de l'air chaud. Je vais y penser.
---------------------------------------------
24 juillet 2012
Voici un compte rendu intermédiaire des tests réalisés depuis le 7 janvier 2012. Tous les tests de collage mettent en oeuvre de la colle résorcine formol Aerodux 185 avec son durcisseur associé 'dosage en masse: 5 résine + 1 durcisseur).
27 mars 2012, 15,9°C. Eprouvette de validation d'une séance de collage à 15,9°C (ctp/po). test destructif le 4 avril. OK (rupture dans le ctp). Inscription dans le livre de construction.
24 mai 2012, 17°C. Eprouvette de validation de serrage réparti sur 8 points (ctp/po).  test destructif le 3 juin. OK (rupture dans le po). Inscription dans le livre de construction.
30 juin 2012 Eprouvette de validation de la baguette de référence haute du flanc n°2. Amélioration de la procédure par mise en place d'une répétition des mises en tensions. Confection d'une éprouvette de 4,74x5,30mm (mesure au pied à coulisse au 1/50). Application au banc 1 axe d'une traction de 200 kg à 5 reprises (200,201,200,200, et 202), chaque fois pendant 30 secondes. OK (pas de rupture, pas de bruits de fentes ou de craquement dans l'éprouvette). On valide 8kg/mm² (specification Michel Barry: 5kg/mm²). Marquage éprouvette. Inscription dans le livre de construction.
4 juillet 2012, 19°C.  Eprouvette de validation d'un collage ctp/po à 19°C avec temps ouvert de 18 minutes. test destructif le 13 juillet: OK (rupture dans le ctp).
------------------------------------------
Tests of centering, weighing and tests flights are planned for 2014.
On the other hand, tests are planned for the material, especially the wood, in order to ensure that the construction complies with the designer specifications.
In that frame, a simple appliance involving a pillar made of welded steel tubes, a mobile frame moved with a hydraulic jack, a plate on which the sample is settled, and a digital dynamometer was made to realize simplified measurement in traction, along one axis (longitudinal). A second plate is under "development" in order to test the glueing perpandiculary to the plane of assembly (the shearing tests will be made similarly to the tractions tests. The results of these tests will be presented here.
Similarly the temperature measurements made at the begining and at the end of working sessions involving operations of glueing will be reported here too.
Finally, all the measurements and tests which will necessarily occur during the final phases of the construction (engine, instruments...) will be presented here.
The aim is to produce some sort of "quality file" presenting a two fold set of advantages:
- sharing my positive and negative experiences with other home-builders;
- provide an in-depth documentation of my construction.
------------------------------------------------------
18 november 2011
Test of glueing of multiply (CTP) on Douglas Pine (PO)

Two sorts of tests are executed: the transversal test, and the longitudinal (shearing) test
The transversal test consists in applying transverse forces to the glueing plane. To do so, one realise a sample made of two parts of wood, the en of them being in the shape of bevel, the CTP being inserted between them. Then, the force is applied through a cylinder of appropriate diameter which is hammered until the sample is broken. So, it is a destructive test with a "yes or no" result.
- If the sample is broken with separation in the plane of glueing, there is no validation.
- If the sample is broken with separation within the wood parts, the glueing is validated, because it was stronger than the wood, which is the aim of structural glueing.

It is quoted that the structure of the parts result in spacing them like we open a book. Consequently, the distance achieved by the end of the tested plane (far from the cylinder) is shorter than the one ran by thefront of the tested plane (on the side of the cylinder). The effort apllied to the tested plane are no homogenous.
An other point to be underlined relies to the quality of the surface  of the bevel parts of the sample. It is essential that their surface are perfect, by the mean of a careful sanding. In fact, every kind of default, small crack, glare, meutrissure, when exposed to the forces generated by the hammering on the cylinder should result in a weak point of nature to ease the rupture of the wood under a thresold which is itself under the lower limit of the validation of the joint. This should alter the measurement.
The wood structure is anisotropic, ie it does not present an homogeneous organization. Roughly, one can assimilate it as being layered, mixing hard, fibrous and consequently strong layers with others more souple and soft. That arrangement provide an oriented composite. The orientation of the main axis  with respect of the plane of glueing is obvioulsy critical. On the sketch, it is possible to focus on the inserted cut views, at the bottom of the sample.
- On the right side, we can understand that the face of the wood in contact with central multiuply (CTP) is made of alternative layers (hard, soft, hard, soft and so on...). Provided it is considered that the glueing is good, the piece will broke by separation of the fibers constituting the hard layers. In fact, it is the transversal cohesion within these hard layers which are solicited.
- On the left side, the situation is quite different. The layers are interacing "flat" with the CTP, through the glued join. Two aspects should be pointed out: The first relies on the fact that either it is  a soft or a hard layer which is in contact. One can think that the glue behave differently with respect of the nature of the wood structural layer. (We consider that the wood is perfect, which is a point we have to try our best to ensure, according the designer's prescriptions). The second point, provided the glueing is successful, regards the fact that the sample breaks through separation between hard and soft layers. It is the cohesion between layers which is solicited.
Consequently, we do not test the same things in these two cases, because it is not the same characteristics which faces the glueing duringthe test.
I do not conclude any final rules regarding the orientation of the wood for glueing. But I think that it is important to be aware of these consideration when we perform such kind of test.
The longitidinal / shearing test consists in the application of a force within the plane fo the glued joint. In this situation, the joint presents its best performance in terms of resistance. That's why one trie, in a glued structure, to make the joint working in that way.
This test is done by the aim of a small plate of PO glued on a small plate of CTP. We put that assembly under traction with the test bench described above. In order to ensure that the force is spplied in the joint, it is necessary to place a small block on the free side of the CTP when installing the assembly on the plate. The force when the sample break is gathered and the performance is deducted in kg/mm², given the surface of glueing in test. This system allows the realisation of impact strength tests through application of repeted tests, slightly under the rupture level identified previously, and following a given protocol, in order to identify a level of resistance lower than the discrete value, appearing in these conditions (not mandatory here).
--------------------------------------------------
1 january 2012 TRACTION TEST
Before glueing the reference stick, on the top of the fuselage, which plays a significant structural role, it is needed to validate the stick with a traction test. (The wood is clever. (A breaking test made during the preparation of wood shows a fibrous rupture conform with the specs from the designer).
A 5mm thickness sample is realized. Two circular cuts are made on each sides with a precision electric saw, defining a calibrated test zone. Its section is measured precisely with a slide caliper. I get 5x5=25mm². The specs requests 5kg/mm². Consequently, the sample will have to withstand 125 kg. The sample is inserted on the plate and the plate is placed on the test bench.
The traction is applied (hydraulic jack), up to 192 kg without any break or suspicious sound in the sample. The dynamometer is pictured. The wood is validated. This status is symbolized by an ink mark applied on the part itself. The sample is documented (date, n° of blue-print/contract, n° of part within the plane, measured section, traction applied, tester initial). All these elements will be quoted in the construction report.
Here is a general view of the test, a view of the plate with the sample, and a view of the mark on the validated part.
------------------------------------------------------------
7 january 2012 - Results of wrenching test on sample made of 15x15PO glued on multiply

Today, test of a sample made of a small 15x15 stick of PO glued on multiply with Resorcine Formol glue.I use the glue AERODUX-185
doc-aerodux-185.pdf (see link Providers).

Conditions of the test:
proportionning: 5 parts of resin and 1 part of hardener (in mass).
temperature of the mix during preparation,glueing and start of pressing: 15°C
temperature during drying under pressing: 10-15°C
duration of pressing (spring clamps): 72h
duration of drying between begining of pressure and destructive test: 7 days
test procedure: cylindrical steel bar placed crossed to the gluing hammered (effort is induced perpandiculary to the glued plane)
Result: successful: the sample break inside the multiply, not at the level of the glue plane, which remain intact.
Lesson learned: The elements Daniel gave are confirmed: pressure during more than 48h00 and drying during a week, at least, are mandatory. But what about the situation in case of failure of the glueing? In such a case, I should have been do the whole procedure again, resulting in wasted time. So, next time, I'll make a sample with three  blocks of PO glued on the plywood, allowing a test one week, six weeks and even possibly one year later. Such test will be more informative and more exhaustive. It will be of nature to check if a longer time allows a good result.
A second point is that it is possible to operate the resorcine formol glue at 15°C
However, I plan to follow Daniel's advice: I'll build a kind of insulating cover placed over the assembling table, with hot air injected to ensure temperature of, say, 18°C during the first hours of drying. I'll think about that.
------------------------------
24 july 2012
Here is a small report of the tests made since 07 january 2012. All the glueing tests involved resorcine formol AERODUX 185 with its associated hardener (in mass, 5 part of resin, 1 part of hardener).
27 march 2012, 15,9°C. Sample for validation of a working session with temperature = 15,9°C (ctp/po). Destructive test on 4 april. OK (rupture within the ctp). Report in the construction book.
24 may 2012, 17°C. Sample for validation of tightening distributed on 8 points (ctp/po); destructive test on 3 june. OK (rupture inside the po). Report in the construction book
30 june 2012 Sample for validation of the po used for the reference stick of second side of the fuselage. Improvement of the procedure through recurrent tractions. Machining of a sample of 4,74x5,30mm (measures with slide caliper 1/50 mm). With the one axis test bench, application of a traction of 200 kg 5 times (200,201,200,200, et 202) each time for 30seconds. OK. No rupture in, nor worrying sound off the sample. 8kg/mm² validated (Michel Barry specification: 5kg/mm²). Marking of the sample and reporting in the book of construction.
4 july 2012, 19°C.  Sample for validation of a glueing ctp/PO with an open time (time with each part glued, but separated) of 18 minutes. Destructive test on 13 july. OK (rupture within the ctp).